The ship entered LeHavre before dawn and moored at the commercial port, where walking to town was not feasible.
Looking NW from the moored ship.
The center of the city was heavily bombed in WW2. It has many very similar rectangular concrete buildings which were built after the war.
Judy took a tour to the old coastal village of Honfleur. I took the tour to the Normandy D-Day Beaches.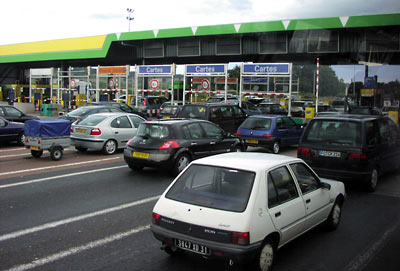 A view at a toll collection facility on the way to the Normandy Beaches. I included this so that any "car aficionados" can see some French automobiles.
This was on the main highway from Paris to Cherbourg. It was a good freeway and people drove on the "correct" side of the road!
The Normandy tour had an excellent lunch at this old farmhouse, parts of which date back to the 1400s.
The lunch.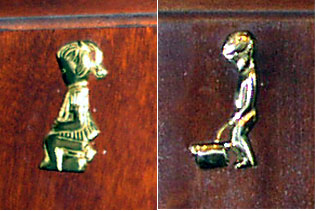 The doors to the restrooms were marked with gender symbols which made words unnecessary.
A final view of France from the Royal Princess Lido Cafe sailing away from LeHavre.
The calm English Channel as we returned to Southampton, where we took a National Express bus to Heathrow Airport and flew home.
Overall, the cruise was great! We were very fortunate to have had calm seas and good weather.
Our next cruise will also be on the Royal Princess, from Buenos Aires to Valparaiso around the Cape of Horn in January. I just hope that the seas and weather will be decent, as the potential for rough conditions there is significant.