The Royal Princess moored in the Elbe River. Taken from a river ferry boat in the late afternoon.
The Royal Princess arrived in port before dawn and departed at 2300, so it wasn't possible to take photos of the lower Elbe from the ship.
Hamburg has a very busy and scenic waterfront.
The Royal Princess was moored within easy walking distance of the central part of Hamburg and two transit stations (S-Bahn and U-Bahn, elevated and underground rail lines).
We walked to a Tourist Office on the waterfront and bought "Hamburg Cards" for about $7.00 each, which were good for unlimited travel on all transit lines, including river ferries, and some museum admissions.
A panoramic view of the waterfront from our ship. The red and white ship in the foreground is the Cap San Diego, a kind of museum showing what freighters were like before container ships took over.
The "Rathaus", the seat of city and state government. It is an architectural masterpiece.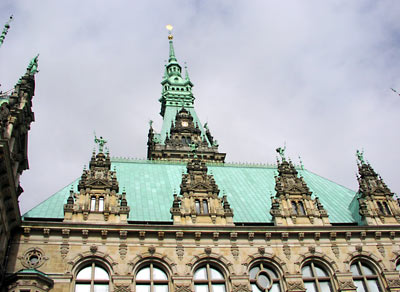 Another view of the Rathaus.
The entrance to a historic Protestant church. It has a famous old organ, with daily concerts.
The central square of Hamburg. Escalators to the subways are in the foreground
Computer magazines displayed in a newstand window.
A window display on one of the smart shopping streets off the square.
The Hauptbahnof (Main Railroad Station).
A public facility for men.
Note the wet streets. This was the first rain we encountered on the cruise. We rode a subway train west to the end of the line to stay out of the rain.
The rain had stopped and we walked around the suburban neighborhood. It had rows of 4 story flats with greenery between. We were surprised to see all the graffiti. We observed it in every city we visited.
We rode another train on the S-Bahn to the east end of the line and walked around an older established area which was quite nice.
We returned to the waterfront and rode a ferry down the Elbe and back, by which time we were ready to return to the ship for dinner.